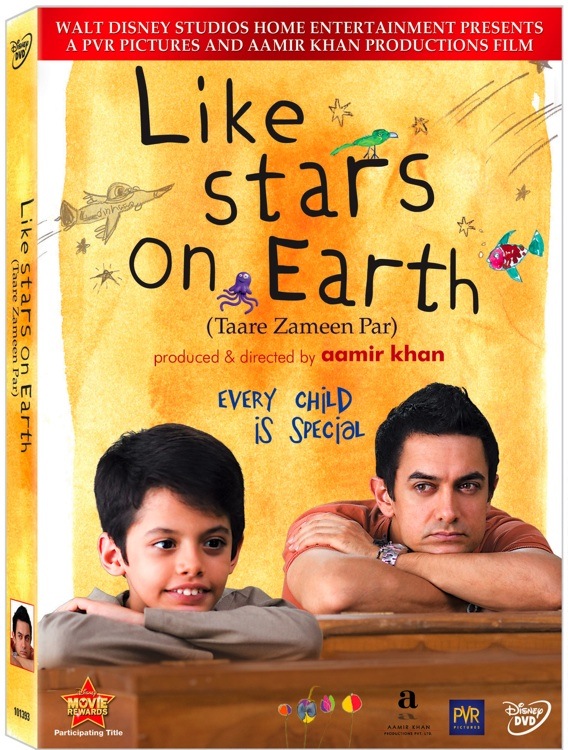 This is the English title of one of our favorite movies. Taare Zameen Par is the original Hindi title.
Yes, that means it's Bollywood. And no, stop cringing. Yes, you absolutely must give it a chance.
This movie will have you laughing so hard you will cry, then in tears of heartbreak, quickly followed by the variety produced out of joy, only to be repeat the cycle before your eye ever have a chance to dry.
By the end of the movie your heart is so immersed in the story you won't even care why you are crying anymore (These simultaneous tears of joy and heartbreak seems to be a trademark of Aamir Khan, as this is exactly I describe his more recent movie
3 Idiots
).
The story of Like Stars on Earth explores the life of eight year old Ishaan, as he struggles through dyslexia to meet the standards that his family and society expect of him (Yet another similarity to 3 Idiots, in which we see this basic formula applied to young adults in college).
Even now as I write this post, after watching the trailer I confessed to Elena my surprise at tears forming even though we have watched the movie 5 times. She laughed from the couch, quickly followed by "me too!"
If you are a teacher, a social worker, a mentor, a parent, work with children in any capacity, ever happen to just be around children, or were ever a child yourself - you must watch
Like Stars on Earth
. At the very least it will break your heart with a deeper understanding and compassion for the children in your life. It might even give new insight on struggles from your own childhood.
I was reminded of this movie after reading an essay titled "The Uniqueness of Individual Perception" by Roger Whitehouse. It is another brilliant essay from the
Information Design
anthology. A lot of thought provoking insight into the vast spectrum of human perception, with a eye on vision in particular.
There is a quote from Whitehouse's conclusion in the vein of my recent
series
on
education
, especially in regard to the "
Henry Ford School of the Future
" model which dominates most of our schools today.
"It is tragic when dyslexic children are made to feel stupid, defective, and inferior just because we are uncomfortable with the idea of allowing our "standards" of performance to be bent enough to include them" (Information Design Pg 128).
It's one thing to understand this statement in your head, but a whole other to feel the tragedy in your heart. Watching Like Stars on Earth will break your heart under the weight of this tragedy.
I can count on one hand the movies I would recommend to one of any age, race, gender, culture, religion, or socio-economic status.
Like Stars on Earth
is one of them, placing it proudly among the best of Pixar.